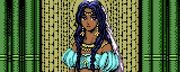 Princess Manaya is a Character for Wizardry Gaiden II: Curse of the Ancient Emperor.
Daughter of Almarl Owner Udine.
However, it becomes Corpse living by Curse of Ancient Emperor Halgith.
With Adventurer 's hands, Halgith is overthrown, Scaly Empress is also destroyed, Curse that Myself put on is also solved and it returns to Normal Human.