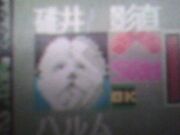 Kagenao Usui is a Character of Wizardry VI: Bane of the Cosmic Forge Replay and Guide.
Race: Mook
Gender: Male
Age: 18
Class: Samurai
Catch Copy: The mystery more than Touhou The Stranger, Wind's Martial Artist.
It is a mysterious person that it is Mook but Samurai. It seems that you are from Touhou from the name you are saying ... .... Character that did not do Class Change. Class pattern, Defense is not very strong, but in terms of Offense it does not allow other Following.
Japanese Armour
Edit